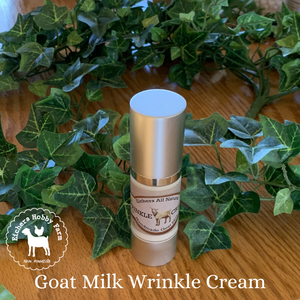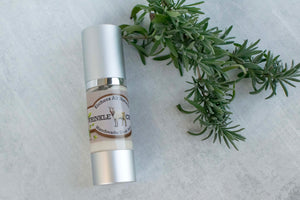 Wrinkle Cream
Regular price
Sale price
$25.00
---
I handcraft all of my products in my home from scratch, with our all natural Goat milk from our own goats milk. All of my creams are made the with our goat milk, Shae Butter, Sweet Almond Oil, Vitamin E & C, minimal ingredients (less is more)to keep you skin healthy and naturally protected. All items are then labeled, and packaged by me.
Reduces wrinkles and skin inflammation

Delays signs of skin aging
Apply 2 times a day to desired area -- a little goes a long way!
I love the Wrinkle Cream!
Annie
''Why does this work so well? I love the wrinkle cream but had low expectations. It's amazing! Why goats milk?''
Fantastic Product
Carlene 
''This face cream is fantastic !!! It is one of the few creams I have tried that DID NOT leave my skin feeling greasy.
My skin is soft and subtle, never tight or greasy feeling. I will continue to buy this product and would highly recommend it.''
* IMPORTANT: Our products are all natural and do not contain preservatives, this means CLEAN, DRY HANDS must be used when touching all products to avoid contamination. Store products in a cool, dry
area out of direct sunlight. Soap has a shelf life and needs to be used within ONE YEAR, all other products have a shelf life and should be used within SIX MONTHS of purchase. Refrigeration will extend life of Our Cream products!
We use an Airless Pump Bottle
The longevity, efficacy, and ease of use of skincare largely depends on what it sits in. To ensure optimal product usage we've come up with a unique form of packaging that's sure to be a game-changer––we're talking about airless pump bottles! Below, find out how to use one, and why we use them at Yours to tackle product wastage.
What are Airless Pump Bottles? 
Unlike the usual dispensers that make use of tubes or straws to pump products out, an airless pump bottle works with a vacuum mechanism.
There are three parts to airless pump bottles:
The base: There's a tiny hole in the base, that powers the vacuum effect and make the intake of air possible

The plate: Inside the bottle, there is a plate (or a disc) of which your skincare product sits on.

The pump: A vacuum effect is created by the pumping action to extract the product. 
With every pumping action, the product that sits on the plate (within the bottle) is pushed upwards by the vacuum effect— air goes into the hole at the bottle's base, pushing the plate that holds the product, and pushes it upwards.
On First Use: Priming Your Airless Pump Bottle
Like any new cosmetics bottle, you will need to 'prime' your airless pump bottle when using it for the first time. Pump slowly for about 10-15 times ("strokes"), which will create the vacuum necessary to dispense the product and essentially activate the vacuum pump system. 
Tip: If at any time your dispenser stops working, simply repeat the priming process to reactivate the airless pump system.