Eichers Hobby Farm: Your Trusted Source of All-Natural Products Made from Goat's Milk
Nowadays, many have been opting to use all-natural skin care products over the synthetic ones for a variety of reasons. According to experts, natural skin care products are more environment-friendly, safer to use, not tested on animals, and have more nutrients beneficial for the skin. While there is now a myriad of skin care products made from natural ingredients or sources, goat's milk as a skin-care ingredient is quietly gaining traction because of its ability to relieve flare ups of dry and/or sensitive skin. And if you are curious on trying out goat's milk for your skin, head on over to Eicher's Hobby Farm online store to see our line of skin-care products made from goat's milk.
At Eicher's Hobby Harm, we offer all-natural skin care products which are handcrafted from scratch, made primarily from goat's milk, and preservatives-free. Our premium collection includes handcrafted soaps, face and body cream, and lip balms. Whether you prefer unscented soaps or those with hints of lily of the valley, lavender, cedarwood, or lilac, we have the perfect goat milk soap that suit your personal taste and skin needs. We use the traditional cold process method of combining home-rendered lard with lye when making our products. We also do our own labelling and packaging for all our goat milk soaps and other products to add our personal touch.
If you're looking for an affordable all-natural and organic soap for your sensitive skin, Eicher's Hobby Farm is the name to remember. Offering handcrafted unscented and scented goat milk soap such as lily of the valley, lavender, and cedarwood, we ship all over the US via the postal service. Visit our website now and choose from our collection of unscented goat mil soap, lavender goat milk soap, lily of the valley goat milk soap, cedarwood goat milk soaps, and many more.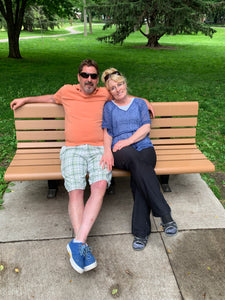 Our Story
Welcome to Eichers Hobby Farm!  Before gaining an interest in the cosmetology/aesthetician industry and eventually owning my salon, my roots take me back to my childhood on a dairy farm.
As I approached retirement, I found a love for goats and the healing properties of goat milk. While I was creating these recipes, my salon/spa clients were my "test subjects", giving me feedback on the scents and other properties.
My deepest desire is to help people with these products using a natural approach to holistic skin care and I know you'll love them too!
Theresa Eichers
- Owner, Eichers Hobby Farm
Read More